Tag Archives:
climate change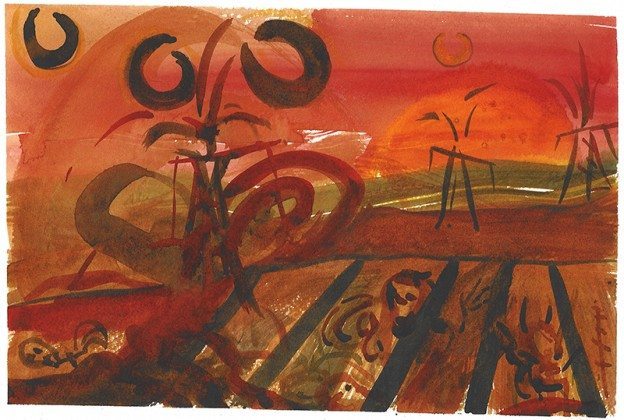 Art Statement
In 2006 I had this "epiphany": People needed to stop arguing about whether Climate Change was real.
Instead of arguing about "Global Warming," we could suspend our disbelief or zealous defense of the cause and simply call these weather and climate phenomena a more descriptive and encompassing name: GLOBAL WEIRDING!
GLOBAL WEIRDING cannot be refuted! You don't need to believe anything, just observe what is right in front of your eyes. SEEING IS BELIEVING and the acceleration of disasters is the clearest message we have that Nature is not up for business as usual. The stakes have changed and reading our new situation is imperative.
The real challenge is to move in ways that are effective in restoring balance. Granted, it is difficult to convince people to change their habits or mitigate carbon releases into the atmosphere if they see no connection and, in effect, feel no personal power to impact or control their fate. Preaching to the choir, I showed this work to the Scientific Summit on Climate Change held at Southern Oregon University in 2007.
It was interesting to attend that conference and use the artwork for a colorful conversation starter during breaks and conversations with the scientific community. A key point of the conference was what could be done about the "gag order" that had been imposed by the Bush Administration, which had threatened to pull all grant funding from scientific studies who viewed climate change as real. Another was the problem of mainstream media, where the issue was rarely mentioned.
It's interesting to write a current statement about my artwork. What I painted in 2006 was a forward look at what was about to happen. Truth makes a believer out of everyone, given enough time, and I feel proud to have done a small service in telescoping what I saw then in order to be just a tiny drop added to a raging torrent of publicity and activity directed at solving the problems of Global Weirding.
Catie Faryl
January 2012
Note: Beneath the image gallery is a reproduction of my original comments to this exhibition.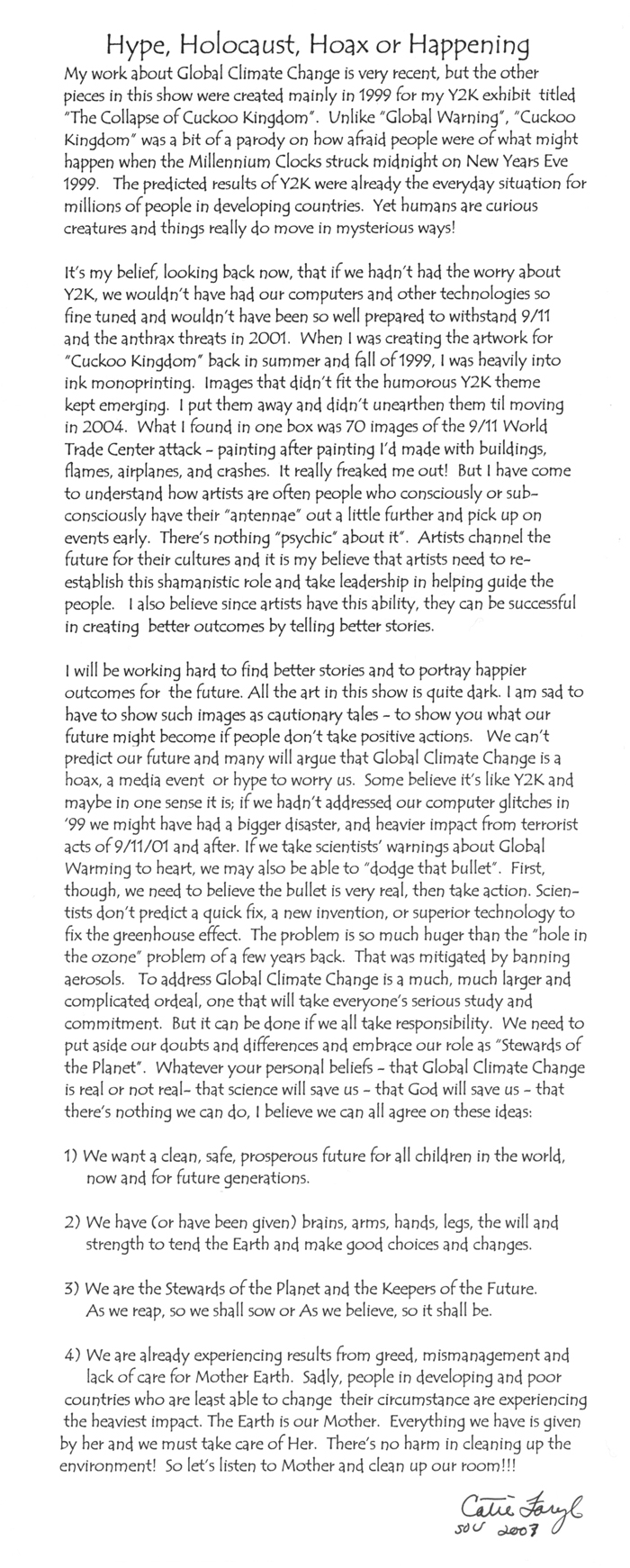 On November 9th this wistful yet powerful documentary will open in theatres across the country. I had the good fortune to see it when it premiered at the Varsity Theatre in downtown Ashland last month.  James Balog took great pains to record the progression of ice melt at 25+ locations using cameras that took thousands of frames of icebergs every year from 2007 until 2011.  A scientist himself, who was initially skeptical about Climate Change and whom had doubts that the actions of humans could accelerate the phenomena so rapidly, he became curious enough to assemble a team and the financial backing to document and record what was really happening to glaciers in the Arctic, Greenland, and other locations.

The footage and photos are stunning and the film simply presents the evidence gathered.  If you miss the screenings at local theatres, you'll eventually be able to watch "Chasing Ice" on television.  As an employer and substantial backer of Balog's work, National Geographic has purchased the television rights and will be airing it soon.

Those of us who have studied and followed the Climate Change issue are encouraged that our Congressmen and Senators will be see Chasing Ice in the near future.  In fact the film's website at www.chasingice.com provides a feature where you can tweet info to important leaders including President Obama, Leonardo Di Caprio, Oprah Winfrey and naysayer Senator James Inhofe.  Sadly the issue has been sorely missing from ads and debates leading up to the U.S. Presidential election.  I personally have difficulty understanding why the questions around "energy independence and jobs" aren't being harnessed to the answers of cleaning up the environment, reducing carbon and creating more alternative power, on a grand jobs program scale!

Chasing Ice should be a real wake-up call to non-believers.  As a beautifully filmed visual illustration of what is happening in the life-supporting regions where polar and glacier ice reflect light back to outer space and maintain the most important cycles on the planet, the images are introduced without judgment or dialogue to convince.  It is obvious to all when Balog shows the retreat of an iceberg over a short period of time equal to the height of the Empire State Building.  Since our minds are not programmed to understand a human-caused geological change event of such massive proportions and devastating results, we are given insight into the melt zone, calving (when icebergs split off from the main mass), moulins (vertical shafts in the ice) and terrifying live action of icebergs the size of cities collapsing instantaneously into the ocean.

Balog has created a memory of these landscapes, which may never return.  He shows us how conclusive and irrefutable evidence is gathered.  Seeing is believing. Ice samples gathered through taking deep ice cores and analyzing the air bubbles for their carbon dioxide levels reveals the historic data, ancient records, of glacier building and melting. Findings give evidence of a 1.5 degree Farenheit increase since 1850s and a definite deterioration in air quality (as suitable for life on Earth.)

The accumulation of "cryoconite" which is carbon, grit and dirt blown from other areas of the world to the Arctic and other glaciers is a significant cause of more rapid ice melt, since the dark, striating colors attract more sunlight thereby speeding the melt off.  It was startling to see the patches in the ground ice and snow being literally eaten away by the nasty black sludge that has etched pools and hollows filled with what looks like the leavings of a camp fire after it's put out with a pail of water.  As melting continues the moulins become raging torrents of water thundering out to the oceans in underground passages.  Seeing this on film is like looking into the abyss where torrents of freed and violent water cascade towards our human population centers.  One extreme and recent exploration to locate the outlet of a huge moulin is dramatically told  in "Melt Zone", June, 2010's National Geographic.

In Balog's poetic narrative he likens his photographs of glaciers to portraits of people where both their grandeur and fragility are exposed.  He equates the vision of a collapsing glacier to an old man falling into the sea and has recaptured for us the tragic story that's in the ice. The evocative shapes of the icebergs in confused blue puddles and the accompanying song "Before My Time" is poignant and inspiring. Balog's lyrical closing echoes across the water and hopefully haunts us into more action – "Sometimes you get out over the horizon and you never come back."

For more information please visit www.chasingice.com,  www.extremeicesurvey.com (E.I.S) or read The Big Thaw articles in National Geographic magazine April and October 2011 for additional information.

If you would like to get involved in a regional effort please visit http://kaconjour.com/ClimateChange/RVOrganization/Organization.html

For information on the State of Oregon's efforts please visit the Climate Change Portal or contact Bill Drumheller at (503) 378-4035 or (800) 221-8035