Bridges to 2050
Catie Faryl's art exhibit, "Bridges to 2050" departs from frustration and gloom by offering optimistic portrayals of common sense solutions and hopeful information on better outcomes for people, planet and all sentient beings. With thought-provoking pictures of where we are and new paths open to us, West Coast Artist Catie Faryl gives inspiration for social, economic, political and environmental justice and shares old and new solutions, technologies and ideas to rebalance our relationships to the land and all living creations. Her paintings and writings offer insight into some choices and decisions ahead and contemplate ways we can move in an upward spiral through better stories, community effort and systems both ancient and visionary, for a sustainable future.
---
EARTH BRIDGE:
Humans Be Still! Make room and care for all elements and sentient' beings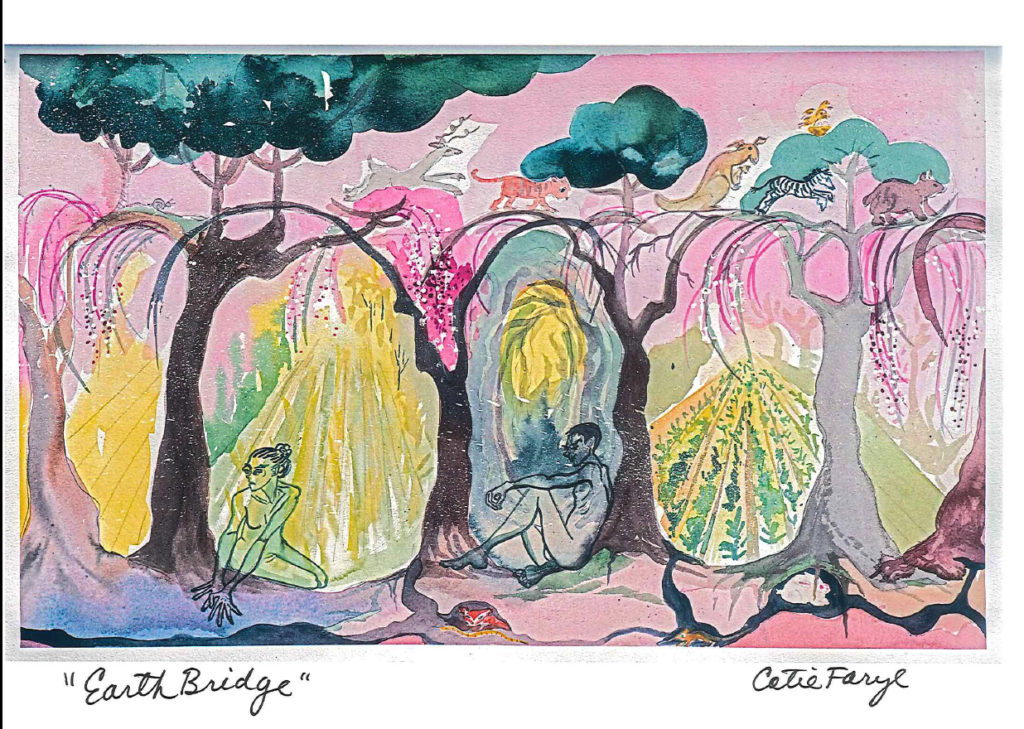 Key Word Searches:
Albert Schweitzer (1875-1965) Famous for the idea of the Reverence of Life
Buckminster Fuller (1895-1983) neo-futuristic architect, systems theorist, author, designer, and inventor
Antonio (Saudi 1852-1926) Famous for his study of nature applied to architecture
Books:
Frankenstein's Cat by Emily Anthes
The Sixth Extinction: An Unnatural History by Elizabeth Kolbert
The Ecology of Eden by Evan Eisenberg
Links:
IUCN Red List of Threatened Species
Center for Biological Diversity
World's fragmented forests are deteriorating
American Museum of Natural History Extreme Extinction
Globalization— the Good, the Bad and the Ugly
The Extinction of Fruits and Vegetables in 80 Years
The Charter of the Forest
Amphibian Ark: Frightening Statistics
Collapsible woven refugee shelters powered by the sun
Human Population: How Does It Compare To Other Species?
The Most Ancient and Magnificent Tress From Around The World
AIR BRIDGE:
Diminish the gorilla of fossil fuel, expand the human heart
Key Word Search:
The Venus Project
Charles Einstein
Murmuration
Books:
Art as Medicine by Sharin McNiff
Lost Lore: A celebration of traditional wisdom by Editors of Chambers
The Human impact on the Natural Environment: Past, Present, and Future
Geo-Engineering Climate Change: Environmental Necessity or Pandora's Box? by J.Michael Thompson
Links:
Climate change brings world closer to 'doomsday', say scientists
Beautiful Photos Of Tiny Humans Lost In The Majesty Of Nature
Pesticides Kill Us
Pachamama Alliance
Beyond Toxics
Scientists: Human activity has pushed Earth beyond 4 of 9 'planetary boundaries'
Clean Energy Breakthrough: Scientists Extract Hydrogen Gas From Plants
Historic thaw in Antarctica may have major effect on coastal cities
FIRE BRIDGE:
Carry the torch of new and ancient solutions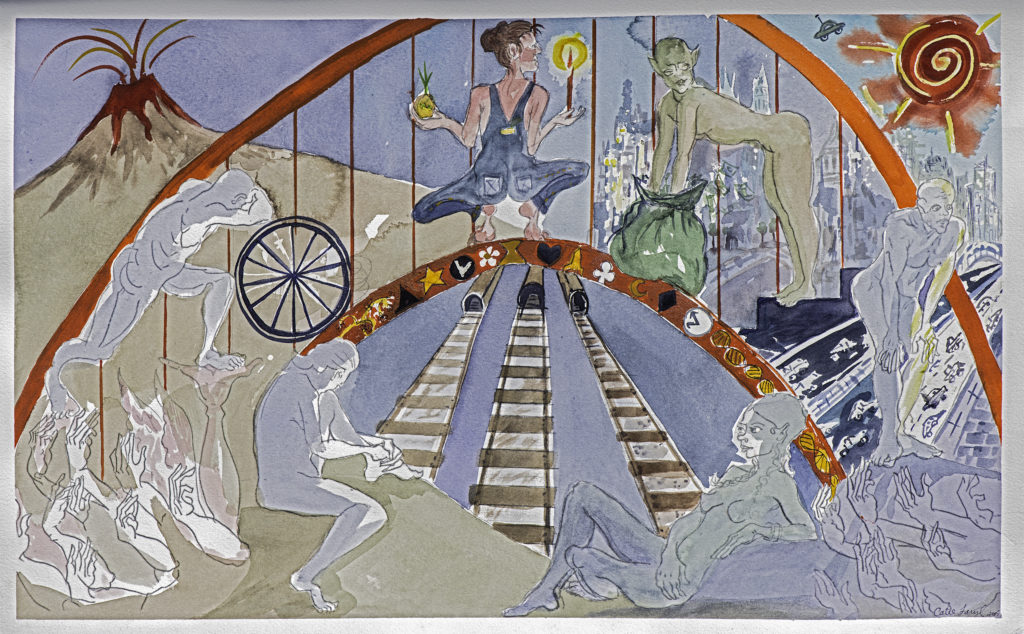 Key Word Searches:
Cellulose 3—D printing
Geothermal energy is renewable
Quantum and magnetic energy
the-powerhouse-inside-the-invention-of-a-battery-to-save-the-world
Tesla
Books:
A People's History of America by Howard Zinn
The Great Work: Our Way into the Future by Thomas Berry
The Universe is a Green Dragon by Brian Swimme
Links:
Clean Energy Breakthrough: Scientists Extract Hydrogen Gas From Plants
Ancient Technology
Climate change brings world closer to 'doomsday', say scientists
Latest Science Inventions
Watch mini Eiffel Tower emerge from goo
New Energy Inventions News Articles
Solutions to the World Energy Crisis
LENR Cold Fusion
NASA Technology Gateway
Biofuel created by explosive technology
Wind turbine creates water from thin air
Drawdown
This machine makes drinking water from thin air
The 10 inventions of Nikola Tesla that changed the world
MSV Explorer amphibious vehicle promises perpetual motion
San Francisco area drivers 1st with algae biofuel

WATER BRIDGE:
Conserve and respect our Mother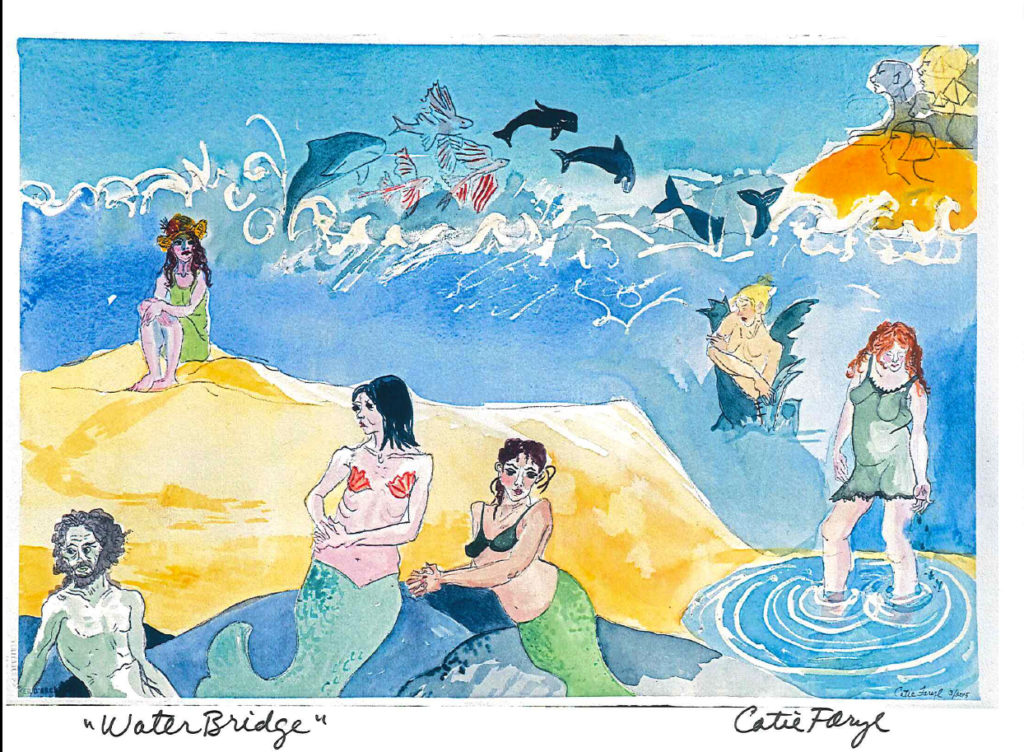 Key Word Search:
Water Wise Project
Watershed Sentinel
Gyres
Books:
The Silent Spring by Rachel Carson
The Poison Spring: The Secret History of Pollution and the EPA by E.G. Vallianatos
Cadillac Desert: The American West and its Disappearing Water by Marc Reisner
The World Without Us by Alan Weisman
Links:
Restoration of Ancient Agricultural Technologies to the Negev
Ocean Life Threatened With Mass Extinction, New Study Says
Playground roundabouts are being used in South Africa to solve water supply problems in rural villages
Never Thought A Billboard Could Be Used This Way!
Fog Catchers Bring Water to Parched Villages
---
A Back-cast Vision by Catie Faryl
"HISTORY OF OUR ARDUOUS JOURNEY
& HOW WE ARRIVE SAFELY TO THE YEAR 2050″
2015 – Awareness increases in America and the world that "business as usual" will not be possible in the future
2017 – Recognition that Climate Change is real and that current National leadership is unwilling or unable to address it. The rise of local group, mayors and governors starts filling the void.
2018-2020 – Economic setbacks caused by multiple, massive floods, fires and other disasters continue. Cook stoves and all vehicles are converted to run on clean-burning alcohol fuels made from organic farm waste and materials (with systems like those developed by Blume Distillation in Watsonville,CA)
2021 – Congress with a new president find the BoomerCorp program, and are able to provide "Health Care for All" with a strong, forwarding thinking group of senior citizens who drastically reduce health care costs via prevention and intervention. Toxic products, plastics and other carcinogens are banned and removed from the environment.
2022 – Congress finds the C.E.T.A. Program, adding thousands of people to bring new ideas and innovate to governments and businesses and help their implementation, as climate consequences and other factors further aggravate the safety and livelihoods of citizens.
2025 – Fire and flood management are given top priority. GMO Trees are banned. Jobs are created to do the physical labor of thinning small trees and undergrowth in forests, as well as weed abatement and weed harvesting for biofuels which eliminated the use of toxic sprays.
2027 – Revamping of the entire waste management system via Creative Reuse Depots where "trash" is made profitable by a new work force of traveling, trained people who make it into energy, non toxic fertilizers, soil building products.
2028 – Fracking and export of domestic oil to foreign entities is made illegal. All domestic energy from fossil fuel and GMO are deemed usable only as "bridge energy sources" for new sustainable/renewable energy sources until 2030, becoming illegal for any use on January 1, 2030.
2031 – With the sunset date for fossil fuel extraction and use in sight, a total retrench of the packaging and delivery systems was begun. Sand from dredging to mitigate climate change storm surges is a source for glass factories to spring up on both coasts. Local food and local products are favored and those requiring long transport routes are scorned. It becomes socially unacceptable to buy from far away. The national trucking of goods decreases as local sourcing and public sentiment against long distance "imports" increased.
2031-2034 – New drought concerns and rising sea water force tax dollars be spent to revamp the entire water catchment, treatment and distribution systems. Water catchment, grey water, more reservoirs and elimination of water-wasting plumbing in every structure proceeds. Rivers, streams, lakes and sources are used more efficiently for outdoor uses.
2035-2050 – American society, seeing the errors made in the last century become interested in values, ethics and education. Postal codes are used to determine what can be legally sold or consumed, so illicit and dangerous items of all kinds are greatly curtailed. The world is recovering from a scary period where our excesses compromised our common sense and our environment. People grow closer together realizing that there is real no other or better way to live than within our means. Reclaiming the commons, all that we share, respect and care for all sentient beings and our natural world is more fulfilling than the treadmill/cancer of endless and unsustainable "growth" — which is actually only resource exploitation, extraction and stealing from the future of the coming generations.
Catie Faryl
www.catiefaryl.net
November 2017, presented at the Bridges to 2050 and "A View from 2050″