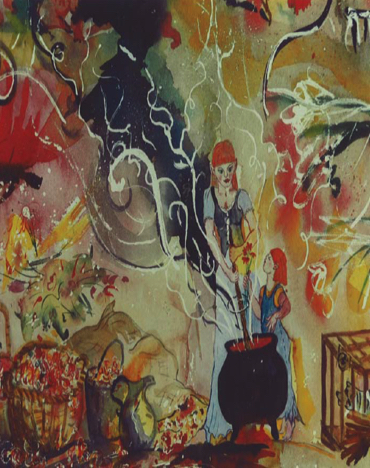 Making Perfume
The mystery of flowers, the utility of fruits, essence of crushed petals
Bare witness to the truth.
Climb a ladder, slide down a chute.
Pick a blossom, impede a future harvest.
Gain a bounty through your lack of restraint.  Breathe.
Snakes in the arbor climb then hang.
Gravity challenges every flying, crawling creature.
We ornament ourselves in the face of decay.
The world is a mirror – don't turn away.  Breathe.
Let me linger awhile in the garden where creation and destruction are one.
Ravish some blooms, and berries before high birds swoop –
We'll make a childish perfume, smell life's fragrant soup!  Breathe.
---
Artist's Statement
Seven large paintings and a series of thirteen moon calendar paintings with cover
piece illuminate the issues and questions about agriculture, species endangerment
and the human dependency on insects, bats, birds and other creatures to pollinate
our crops and balance our world. The underlying themes are love, loss and hope.
Proceeding this show, Catie Faryl has explored this topic with exhibits titled "The
Beekeeper's Daughter" (which speaks to her own background and interest in the
topic) ,"Observations from the Hive" (an irreverent study of the planet's most
confused social beings, humans), and "Global Warning: Mother Nature Says Clean
Up Your Room" (title speaks for itself!)